Training: practical specialisation at the 'Fundación Cordobesa de Equinoterapia' (Spanish)


Instructors:
Verónica Martínez Achával, teacher and president of the 'Fundación Cordobesa de Equinoterapia'.
Juan Manuel Ramallo, engineer and horse riding instructor.
---
We offer the following training model to participants: a four day theoretical and practical course followed by an intensive 10-day integration into the work team of the organisation.

Our organisation has been dedicated to disseminating and developing the activity since 1989 and since then we have taught courses in different provinces within Argentina as well as abroad in countries such as Mexico, Cuba and Ecuador. We have also taught 75 courses at our centre, a space dedicated specifically to the activity with stables, covered arena, grass arena, classroom, ramps and accommodation for volunteers, with participants from all over the world attending. Countries of origin included: USA, Canada, Mexico, Venezuela, Ecuador, Peru, Bolivia, Brazil, Paraguay, Chile, Uruguay, Italy, Spain, Switzerland, France, Sweden, Finland, Germany, Denmark, Holland, Israel and Australia.


Duration:
2 work weeks from Monday to Friday 6 hours per day.
In the morning one hour of general maintenance of the stables and other facilities.
In the afternoon from 2pm to 7pm assistance at the programmed lessons.

The participant will be integrated into the work team:
Guided by specialist instructors participants will assist with all of the work related to the activity: preparation of the horses, training of other horses destined for the activity, general maintenance of the facilities and active participation in the different Equine Therapy sessions. During the program participants will have the opportunity to work with children, adolescents and adults with different conditions such as Cerebral Palsy, Psychomotor delay, Autism as well as a wide range of syndromes.

Through this active integration, participants will be able to acquire theoretical and practical knowledge of horse handling as well as how to teach students with a wide range of different disabilities. Certificate: The participant will be presented with a certificate of training completion.

Please note the training will not be suspended in the event of adverse weather conditions as we have a covered arena for the lessons.
---

Training timings:
Start:
When the four day course finishes See date of course
End:
Two work weeks after the end of the course
Total duration:
14 days with accomodation

Timings:

First 4 days - course:
From 8:00am to 17:30pm

From 9:00am to 17:30pm

From 9:00am to 17:30pm

From 9:00am to 13:00pm
Next 10 days - training

Morning

From 9:30am to 10:30am

Afternoon

From 14:00pm to 19:00pm
Finish:
10 days after the course.
Click here to complete an information request form.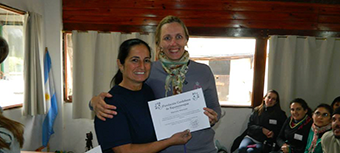 For more information about prices click here
abcequinoterapia@gmail.com
info@abcequinoterapia.com
Centre: 0351 4641695
Mobile: 0351 157024331
From abroad: +54 9 3517 024331


---

Payment options:
Bank account deposit:
Bank: BANCO ROELA
Account holder: FUNDACION CORDOBESA DE EQUINOTERAPIA
CUIT: 3070793747/1
Account: 1706/7
Account type: Current account in pesos
Bank branch: SAN MARTIN 0005
CBU: 2470005610000000170674
Please send deposit confirmation via email

Foreigners:
Please confirm your inscription by sending an email to info@abcequinoterapia.com.ar