Fundación Cordobesa de Equinoterapia
How did our activity start?
Verónica Martínez, president of the organisation, comes from an equestrian family and is the author of the book and concept Martínez Achával. From a young age she demonstrated her passion for horses and started competing in different disciplines in which over the years she obtained a number of important achievements. After finishing her secondary education, she studied Physical Education specialising in kinaesthetic teaching as a gymnastics coach. Verónica and her husband Juan Manuel Ramallo, a primary category show jumper, live in a country house with their three children where they develop the activity and run their riding school. Verónica joined her two passions, horses and kinaesthetic teaching when in 1989 María Luz, her niece, is born with Down's syndrome. From this moment, Verónica began investigating and attending courses on how best to teach disabled individuals. Starting with María Luz, she began to receive students with different pathologies and to build the centre to what it is today.
What is
Equine Therapy?
Equine Therapy is the education, re-education and rehabilitation of a person with special needs through their interactions with horses. The activity improves the students' quality of life and favours a more total inclusion in society.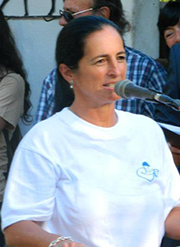 Teacher Verónica
Aims and expectations:
To transmit her experiences for the benefit of others, promote the opening of new Equine Therapy centres and teach professionals from a wide range of professions so that as many people as possible can improve their quality of life through this activity.
---
Who works at the centre?
The centre is run by Verónica Martínez Achával and her husband Juan Manuel Ramallo who are both dedicated to improving the lives of their students.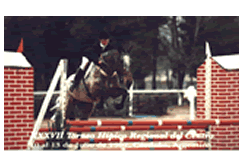 Teacher:
Verónica Martínez Achával see CV (Spanish)
Engineer:
Juan Manuel Ramallo see CV (Spanish)
Equine Therapy is taught in three areas: Hippotherapy, Therapeutic Riding and Horse Riding as a sport.
Hippotherapy.
In Hippotherapy we work with babies, children or adults with severe neuro-motor disabilities including degenerative and or genetic conditions, as well as those suffering from neurological trauma.
Therapeutic Riding.
In Therapeutic Riding we work with children and adults with cognitive and or psychological dysfunctions.
Horse Riding as a sport.
In Horse Riding (as a sport) we work with children and adults who despite their medical condition can ride independently and practice all areas of the sport including show jumping and dressage.
---
The Equine Therapy centre:
Fundación Cordobesa de Equinoterapia
The centre has all of the facilities needed to teach Equine Therapy.
Covered Arena: 500m2, floodlights and roll up wall coverings (allows seasonal changes to the arena)

Stables (indoor and outdoor)

Feed store

Tack room

Workshop

Shaded picket line

Outdoor horse shower

Outdoor grass arena: 3000m2 with jumps

Three mounting ramps strategically placed around the centre

Classroom

Disabled toilet

Parking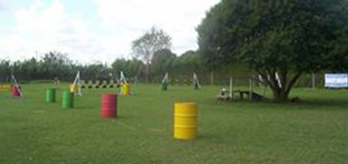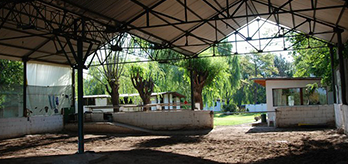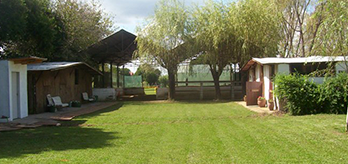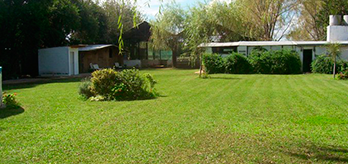 ---
Work Methodology:
We've developed the Martínez Achával concept, a work methodology based on understanding all aspects of the rider and influencing them to improve their quality of life through their interactions with horses.

The method is founded on the basic principles of Equine Therapy, developing an educational and therapeutic action plan working trans-disciplinarily on language, communication, cognitive function, gross and fine motor skills, as well as self-care techniques.

We make the most of the intrinsic resources that the activity generates, influencing reason with emotion, and motor pathways with sensory stimuli.

Teacher Verónica Martínez.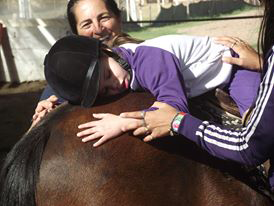 Learning strategies
Language and Communication:
Pre-language:
Visual discrimination
Vocal and gesture imitation
Looking, grabbing and pointing
Identification of equestrian and teaching elements

Receptive language:
Response to requests with relation to the education of movement taking account of time and space.
Classification of elements by size, colour and form in different contexts
Expressive language:
Name family members
Name parts of own body and horses' body
Describe surroundings
Talk about needs and desires
Form and complete sentences
Respond to questions
Form questions
Sequences
Formal communication

Gross motor skills:
Head control
Trunk control
Control of general posture
Regulation of muscular tone
Vertical, horizontal, static and dynamic equilibrium
Body plan


General dynamic coordination
Hand coordination
Identification of left and right
Flexibility: articular movement, elasticity and muscular elongation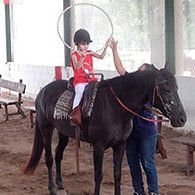 Dissociation of hips and shoulders
Inhibition of tonic movements and associated movements
Fixation and automation of movement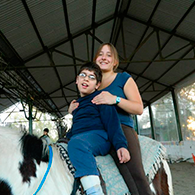 Fine motor skills:
Development of muscles and visual motor integration
Direct hand actions: contact with the horse
Indirect hand actions: contact with the riding crop
Development of basic coordination skills

through horse care, hygiene and nutrition.
Selection of objects in relation to their function, utility and quality e.g. brush, reins etc.
Hand and finger training with elements of other sports, equestrian elements and teaching elements

Identification of different surfaces
Identification of geometric figures, letters and numbers
Perceptive discrimination of objects, state and quality (on and off the horse)

Socialisation and self-care:
Personal autonomy:
Drawing parallels between horse care and self-care e.g. brushing hair, getting dressed etc.
Social autonomy:

Distinguishing different forms of transport
Correct use of public objects
Interpersonal relationships: starting between the horse and student, and moving on to relationships with other humans.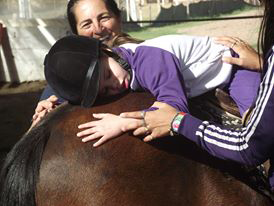 ---
Postural alignment in Equine Therapy: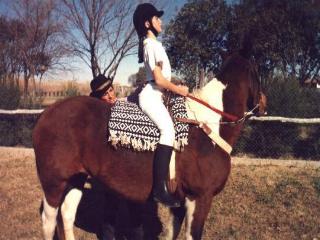 Children develop motor skills sequentially. Firstly, they start moving their limbs without coordination and then they start crawling. There are three stages to crawling: initially moving both arms and then both legs, then left limbs followed by right limbs and eventually a diagonal pattern (opposite arm to leg). This pattern strengthens the abdominal musculature and the child can start walking in a bipedal manner; at this stage the spine naturally aligns in a healthy person.
The lack of movement in a person with a motor impairment can modify their postural alignment. Using specific techniques riding a trained horse can favour the straightening and aligning of the student's spinal column.
---
Theoretical and Practical Equine Therapy Course

Concepts and work methodology.
The course is taught at our centre over 4 days.

Equine Therapy Book - Martínez Achával concept
Work methodolgy, necesary techniques and concepts, 212 pages and high quality format.


Training - Practical Specialisation in the activity
Horse handling techniques for Equine Therapy.
Accomodation at our centre.
12 days training following the course.
Saddle for double riding
Essential equipment for the activity
Equine Therapy saddle
Developed by our organisation.
Early Stimulation.
Registration N°:007-32362/01
Cuit:30707937471
Bank details
---