Course - Fundación Cordobesa de Equinoterapia.
"76th Theoretical and Practical Equine Therapy Course" - Spanish
Dates: 10th, 11th, 12th and 13th of August 2017.

Lecturers:
Teacher Verónica Martínez Achával, President of the Fundación Cordobesa de Equinoterapia.
Engineer Juan Manuel Ramallo, horse riding instructor, Argentinian Equestrian Federation.
---
Why choose our course?

We have taught over 75 courses in a number of different countries and share with participants 27 years of experience in Equine Therapy. Over the 4 days we will demonstrate theoretically and practically, the methods we have pioneered with the backing of the medical community. In particular we will show participants how to use the specialist double riding saddle we have developed for Hippotherapy. The saddle is the first in the world with two sets of stirrups for both the instructor and the student and is indispensable for an Hippotherapy session.

Participants will have the opportunity to meet and work with our students. Please note that as we have a covered arena this will go ahead despite possible adverse weather conditions.

We provide advice on all aspects of the activity including: training, materials, equipment, horses, and any other concerns participants may have.

All participants will also receive our Equine Therapy book – The Martínez Achával concept and a certificate of completion.
Martínez Achával concept
Introduction to Equine Therapy
Introduction to Horse Riding
Basic therapeutic principles of Equine Therapy
Theoretical analysis of a horse's multidirectional movement in comparison to human bipedal movement. (theory, video and practical demonstration)
Division of Equine Therapy in three areas: Hippotherapy, Therapeutic Riding and Horse Riding (as a sport)
Different techniques to facilitate teaching of children, adolescents and adults with different pathologies
Equestrian associations and daily life
Educational areas: Fine and gross motor skills, communication and language, cognitive function, socialisation and self-care
Lesson Planning
Visual, Tactile, Auditory, Gustatory and Vestibular receptors in humans
Muscular chains in the human body
Distal impulses in Hippotherapy
Horses for Equine Therapy

---

NEXT INTERNATIONAL EQUINE THERAPY COURSE
Start:
10th of August 2017.
Finish:
14th of August 2017.
Duration:
Four days (Thursday, Friday, Saturday and Sunday).
Timings:

Thursday 8:00am a 17:00pm

Friday 9:00am a 17:00pm

Saturday 9:00am a 17:00pm

Sunday 9:00am a 13:00pm
Finish:
On the Sunday at 1pm we provide lunch for all participants and there is a presentation of certificates.
Enquire about prices here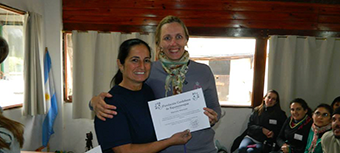 Enquiries:
abcequinoterapia@gmail.com
info@abcequinoterapia.com
Centre: 0351 4641695
Mobile: 0351 157024331
From abroad: +54 9 3517 024331


*Please note that as we have a covered arena this will go ahead despite possible adverse weather conditions.*
To sign up to the course please fill out the pre-inscription form
Click on the below button to sign up:

Participants that sign up before the 10th of July will receive a discounted price.
In addition, participants that have already completed a course with us will receive a 30 % discount.
---

Payment options:
Bank account deposit
Bank:BANCO ROELA
Account holder: FUNDACION CORDOBESA DE EQUINOTERAPIA
CUIT: 3070793747/1
Account: 1706/7
Account type: Current account in Pesos
Bank Branch: SAN MARTIN 0005
CBU: 2470005610000000170674
Send deposit confirmation via email.

Foreigners:
Confirm your inscription at abcequinoterapia@gmail.com.ar